10 Ways to Bring Your Girl from Anxious to Confident This Summer
Anxious? Bored? Lonely? All these might be words your girl has verbally or nonverbally expressed this summer. And, yes, school just got out. What will you do? How can you help your girl grow into the confident, bold girl God created her to be?
Here are ten ways you can help bring your girl from anxious to confident this summer, rooted in Truth and full of fun, too!
1. Connect with Your Girl. Be present and get to the deeper-rooted issues of what is going on within her head and heart. Help her understand that no matter what, you're there for her, and she is LOVED.
2. Give Your Girl an Emotional Tracker. Your girl doesn't always know what she is feeling, or she might have a hard time articulating it. Here's a simple tool for your girl to better understand her feelings: Download the Emotion Tracker at gemsonthego.org to help you get started.
3. Pray with Your Girl and for Your Girl. Trusting God with your girl's innermost feelings and vulnerabilities (and yours too) can help your girl feel empowered and confident as she lets go of fear and lives in God's Truth of who He says she is. When you don't know what to pray, use these simple five prayers at gemsgc.org.
4. Give Your Girl Space to Color and Create. Coloring reduces anxiety, is deeply relaxing and therapeutic. The back-and-forth rhythm of the crayon is soothing, creates focus, reduces anger, calms emotions, and relieves pressure. Here's a great coloring sheet to get you started: Psalm 29:11 coloring sheet at gemsonthego.org.
5. Encourage Your Girl to Breathe. Help your girl take some quiet time away without distractions like a phone, TV, or computer. Even just two minutes each day of deep breathing can relax your girl and help her refocus on what is accurate and true.
6. Inspire Your Girl to be Active. Staying active can be as simple as going for an evening walk. Not only does it help to reduce and burn off stress and calories, but it also helps you bond with your girl. Help keep your girl active this summer with this fun Activity Tracker at gemsonthego.org.
7. Teach Your Girl Her Truth-Filled Identity. The GEMS A to Z Identity list reminds your girl with every letter of the alphabet that God's Word says she is A—Accepted, B—Beautiful, C—Chosen to Z—Zealous. Download your FREE A to Z Identity List at gemsgc.org.
8. Strengthen Your Girl's Friendships. One of the life-giving foundations of a girl's childhood is her friendships with her peers. The ShineBrightly Celebrate Summer! Activity Box will teach your girl how to grow in her friendships and provides hours of independent fun. Learn more about the ShineBrightly boxes at gemsgc.org/shinebrightlybox.
9. Put Truth-filled Books in Your Girl's Hands. Reading about what other girls are going through can help you and your girl not feel alone and give your girl the confidence to live as God created her. Check out some of these trusted resources from your favorite booksellers:
Zoe's Hiding Place: When You Are Anxious by David Powlison (for girls ages 5-8 years)
Braver, Stronger, Smarter: A Girl's Guide to Overcoming Worry & Anxiety by Sissy Goff (for girls ages 6-12)
Brave: A Teen Girl's Guide to Beating Worry and Anxiety by Sissy Goff (for girls ages 13-18)
10. Remember that You and Your Girl are Not Alone. It's okay to ask for help, and that's what GEMS Girls' Clubs is here for. Text MY GIRL to 1-833-230-2778 to receive helpful GEMS resources. It's free, and there's no obligation. You and your girl are seen, valued, and so very loved.
No matter what this summer holds, your girl can grow in confidence and know that she is loved by God and by you.
FREE RESOURCES
GEMS On The GO is filled with girl-friendly encouragement, games, crafts, recipes, and fun travel snacks to keep girls engaged on road trips and throughout the summer. Check out gemsonthego.org.
RELATED RESOURCES
GEMS is Here to Help Overcome Your Girls Anxiety
With anxiety on the rise in tween girls, GEMS created our ShineBrightly Activity Box featuring Anxiety Elephants by Caris Snider, specifically for 7-12-year-old girls who may be feeling stressed, anxious, or worried.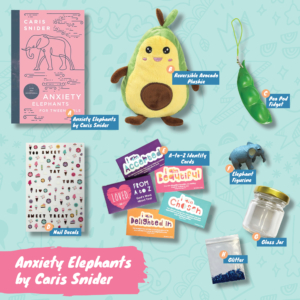 This box is a perfect gift for you tween girl, packed with girl-friendly fun and faith.
PHOTO CREDITS
Attribute: Image: Design vector created by freepik – www.freepik.com