Sprinkle Love Like Confetti
by Serena Ellens
Let all that you do be done in love. 1 Corinthians 16:14 (ESV)
"Alright, Jade, what kind of snack should I bring next week?" I say, laughing when she asks for Blue Moon Oreos and Red Hots. Though we don't have the same taste, we both love snacking and chatting.
Every week, I show up for Jade. I find new crafts to do together or bring books she'll enjoy. I inquire about her week and ask follow-up questions the next week. I read to her, play games with her, go to her band concerts, call her when she's missed a few weeks — all to show Jade just how much I care about being her mentor.
Jade is one of many children in a difficult family situation who often feels forgotten or ignored. So each week, I show up and give her focused time. I want her to know she's worth it.
But many weeks I wonder if it's making much of a difference.
Perhaps you've thought the same thing. You do your best to serve someone, choosing selflessness instead of selfishness, and it hardly seems to matter. Or maybe you're like Jade and feel like you've never been given any love to share in the first place. Whether you feel disheartened, forgotten or somewhere in between, hear this: You are loved. You matter. And the love you sprinkle can make a huge difference.
Jade is naturally quiet and isn't one to express a lot of emotion. Usually I'm content with at least one smile or laugh. But every so often, something small reminds me that it does make a difference to serve as her mentor.
When she reads the book I bought for her.
When she gives me an unexpected hug before running back to her classroom.
When she tells me she missed me.
When I overhear another student ask if I could be their mentor, and Jade insists I'm all hers.
It's as simple as that. And every time, it makes me melt.
First Corinthians 16:14 says, Let all that you do be done in love.
All that you do. Not some or most. Not just if you feel like it or when you have time. Not if you're confident it will be applauded, appreciated or accepted. Not even if you're sure you'll be able to see the difference it makes.
All things. All ways to all people. Always. The Amplified Bible version of 1 Corinthians 16:14 says, Let everything you do be done in love [motivated and inspired by God's love for us]. God calls us to love because He first loved us. He set the example when He made the ultimate sacrifice by sending His Son, Jesus, to die for us. And when we're filled up with His lavish love, we can give it freely to others. If it's His selfless, powerful love we're sprinkling, it will make a difference.
On days when I barely get to see Jade, I have to remind myself of what God asks of me. Not perfection. He doesn't ask me to understand everything. He asks for obedience and a heart that trusts Him to turn a sprinkle of love into a waterfall. His love drives me into that classroom to meet Jade. I might not have the strength. I may not be in the mood. But when I'm surrendered to a God who gave His Son out of love for us, I can give an hour so this precious girl can know His love, too.
I'll never forget the first day I returned to mentor Jade after winter-break.
"You're here!" She exclaimed with a look of surprise. My heart broke. In that moment, I knew she hadn't expected me to return. She'd had too many people walk out on her to believe I'd come back. But there I stood, as promised, and she could hardly believe it.
It makes a difference. Those small, simple, dedicated sprinkles of love, all the things you choose to do in love — those could change everything for someone. Or, they could change everything for you.
Lord, we praise You for the love You have poured out on us. May Your love motivate and inspire us to sprinkle love like confetti wherever we go. We want the world to know Your love and just how loved they are. In Jesus' Name, Amen.
RELATED RESOURCES
Check out the GEMS "Sprinkle Love Like Confetti" product line to find adorable gifts for your girls (or for yourself)! These shirts, mugs, tote bags and stickers serve as sweet reminders to share God's love wherever you go.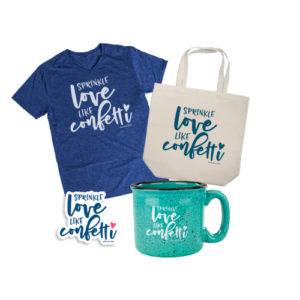 MEET SERENA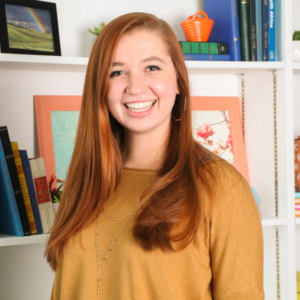 Serena Ellens is the Managing Editor and Content Manager for GEMS Girls' Clubs. Serena graduated from Anderson University with an English and Writing degree with a focus in Young Adult Literature. She loves spending time with girls and learning about their interests. Serena was a GEM and is amazed that God brought her to serve at the ministry that blessed her as a girl.
© 2020 by Serena Ellens. All rights reserved.
Photo by Clay Banks on Unsplash