Tell Life-giving Stories
GEMS Guest Post by Carol Kent
Most girls will remember the main point you make if it's wrapped in a story they'll never forget.
Why?
Stories

keep us guessing

about outcomes and

fill us

with anticipation.
Stories

answer

our questions.
Stories

teach

biblical truth.
Stories

connect

us to the storyteller—and Jesus was the master Storyteller.
It happened in the fourth grade. I was sitting in my seat looking intently at my teacher, priding myself on being a good student. John, in the seat behind me, tapped me on the shoulder. I'd been noticing him for quite some time, hoping he would notice me, too. I turned around in my seat, putting on my best smile, and said softly, "Yes?"
He didn't say anything; he just stared at something on my face. Then he elbowed the boy next to him and whispered, "See?" He nodded as John continued, "She does have big lips, doesn't she?"
I was devastated! I turned around and pretended it didn't matter, all the while breaking out in a nervous red rash. When the bell rang, I found a quiet seat in the back of the bus, and when I got home, I ran upstairs, threw myself across my bed, and sobbed. I knew I was the most unattractive girl in the whole world. I was sure I'd never be asked out on a date. I knew I'd never be married or even gainfully employed.
When the initial hurt subsided, I decided that if I was going to succeed in life, I would have to become one of the thin-lipped people. I stood in front of the mirror and painstakingly rolled my lips inward until they were thin and beautiful. But I discovered a brand-new problem. It was almost impossible to speak with "thin" lips (at least with big lips rolled in to look thinner)! I began practicing at home with my "new" mouth, trying to perfect my speech before making a public debut.
One day my father looked at me and said, "Carol, what on earth are you doing to your mouth?"
I said, "What do you mean, Dad?" In my effort to look pretty I hadn't even noticed how distorted my speech was with this new, "attractive" mouth.
As you've been reading this story, perhaps you've been thinking about your own fatal flaw. It might not have been big lips, but perhaps you had a nickname that labeled you in a negative way. What happened as you were growing up that damaged your self-esteem and made you feel unloved, unattractive, or unworthy?"
As you work with girls, remember:
Tell your stories

—a great story makes truth memorable.

Be real.

Girls will identify more with your failures than with your successes.

Identify

the "felt need issue" in your story (overcoming low self-esteem, conquering fear, defeating worry, etc.).

Find a verse

that reveals the spiritual application of your story. When I tell my "Big Lips" story, I use: I have loved you with an everlasting love; I have drawn you with unfailing kindness (Jeremiah 31:3). I explain that even if no one else loves me or finds me attractive, God loves me.
Remember—your vulnerability will allow girls to see how genuine and imperfect you are. That will help them to identify with what you've gone through.
As you tell personal stories, encourage your girls to tell their own stories. Help them to find life-giving scripture that provides a biblical application for their life experience.
Encourage them to follow the example of Jesus: You've been given insight into God's kingdom—you know how it works. But to those who can't see it yet, everything comes in stories, creating readiness, nudging them toward receptive insight (Mark 4:11 MSG).
Let's help girls to share their stories of the difference Christ has made in their lives and teach them to follow His example: [Jesus] taught by using stories, many stories (Mark 4:2, MSG).
Prayer: Heavenly Father, thank You for the opportunity of sharing personal stories with my girls. Help me to be vulnerable and honest so I convey the hope and healing You've brought to my life. Give me wisdom to make my girls feel safe enough to share their own stories so, together, we can find answers to today's problems in Your Word. Amen.
RELATED RESOURCES
Since the first flicker of faith, God has given you a story to tell! In her book Unquenchable, author and speaker Carol Kent takes you into God's Word, and into your own story, to reveal the true power of the fire God has placed in you and to fan the flames of your faith. See His burning love for you!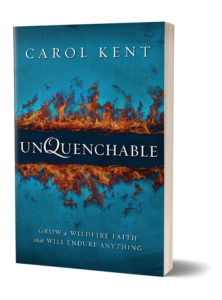 MEET CAROL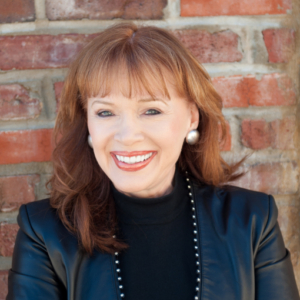 Carol Kent is a bestselling author and international speaker. She's the founder of the Speak Up Conference, a ministry that helps Christians develop their speaking and writing skills. She also founded the nonprofit organization, Speak Up for Hope. Carol is the author of over twenty-five books, including When I Lay My Isaac Down and Becoming a Woman of Influence. Her newest titles are He Holds My Hand, a 365 page-per-day devotional, and Staying Power. For training in how to share your personal testimony more effectively, go to SpeakUpConference.com.  You can reach her at carolkent.org.
© 2020 by Carol Kent. All rights reserved.