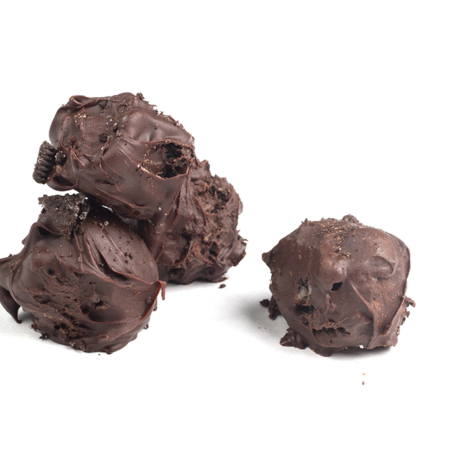 Recipes
Oreo Truffles
A no-bake twist on regular Oreo® cookies that everyone will love.
What You Need
25 Oreo® cookies
1 4-oz. (118 ml) package of cream cheese, softened
1 cup (240 ml) of white or dark chocolate chips
Parchment Paper
Cookie sheet
Plastic bag
Directions
1.) Put the Oreo® cookies in a plastic bag and smash them. A rolling pin works well.
2.) Once the Oreo® cookies have been smashed, pour them into a bowl and add the cream cheese. Mix well.
3.) Scoop out small balls of the Oreo® cream cheese mixture and roll them between your hands. Place about an inch (25 mm) apart on the parchment paper.
4.) Refrigerate for 1-2 hours.
5.) Put the chocolate chips in a microwave-safe bowl. Microwave on high for 1 minute, and stir. Continue to microwave for 30 seconds at a time until the chocolate has melted.
6.) Dip your truffles in the melted chocolate and place back on the parchment paper. Decorate with crushed Oreos®, or drizzles of chocolate. Refrigerate again for a few hours to make sure the chocolate hardens. Yum!