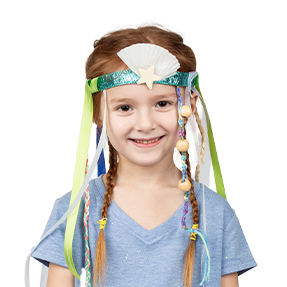 Crafts
Sea Queen
Make this pretty mermaid crown for you and a friend.
What You Need
Blue, white, and green ribbon in different sizes
Blue, white, and green yarn
Pearl beads
White shells
Stapler
Glue
Scissors
Other decorations
Directions
Wrap a piece of ribbon around your head to measure it. Cut that piece and lay it out flat.
Cut the rest of your ribbon in long and short pieces. Then, staple the pieces to your headband so they hang down long on either side of your face. You can also glue the ribbon instead of stapling it.
Braid or twist pieces of yarn together. Staple those wherever you want on the headband.
Glue shells and other decorations to the headband. Keep going until it looks like a crown!