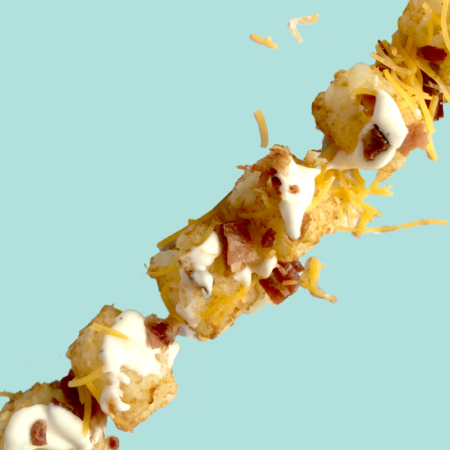 Recipes
Tater Tot Skewers
What You Need
Skewers or long toothpicks
Tater tots
1 Tablespoon (15 ml) ranch dressing
1 Tablespoon (15 ml) chives or green onions
¼ cup (60 ml) bacon bits
½ cup (120 ml) shredded cheddar cheese
Directions
Cook the tater tots according to the directions on the package. Make sure you have a grown-up help if you're using the oven!
When tater tots are done, skewer as many of them as you can on each skewer and set on a microwave/oven-safe plate.
Sprinkle with cheese, bacon bits, and green onions. Put in the oven for a few minutes to melt the cheese, or microwave for 30 seconds-1 minute.
Drizzle with ranch and share it with a friend!